North America Pipeline


For more than 30 years, we have pursued scientific discoveries that address unmet medical needs. The process of developing small-molecule drugs and biologics draws on the expertise of many, inside and outside the organization. Together, we work to investigate new molecules that have the potential to change medicine and change lives.
Notably, our work to research and develop novel medicines led to 3 approvals by the U.S. Food and Drug Administration between 2018 and 2019; two of these medicines were recognized with breakthrough status. Data on these medicines earned recognition as Best of ASBMR (2013), Best of ASCO (2016), and Best of ASH (2018).
Drugs in Development
Our development work in North America is coordinated with global colleagues to bring new medicines to patients around the world in 4 therapeutic areas: nephrology, oncology, immunology & allergy, and central nervous system (CNS). Many of our programs target rare diseases for which patients lack sufficient treatment options.
This table provides an overview of medicines that are under investigation in the U.S. and regions we support. To view the most current global Kyowa Kirin pipeline, click here.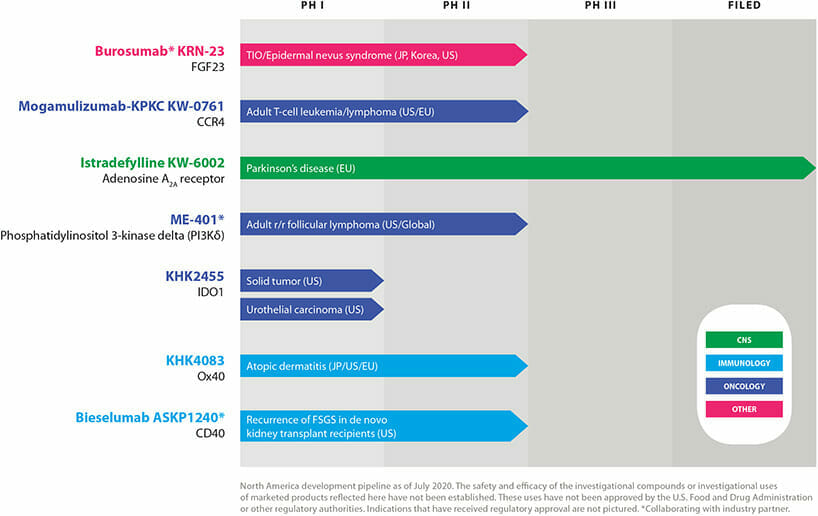 Clinical testing of novel drug compounds is a complex process with no guaranteed results. Our hope in pursuing these indications is to deliver to patients the advances that may have a profound impact on their disease. However, the safety and efficacy of these agents remains under investigation and has not been established or reviewed by regulatory agencies or health authorities.
Clinical trials
With our clinical research, Kyowa Kirin North America aspires to contribute to the enhancement of medical care, the advancement of medical and pharmaceutical sciences, and the overall improvement of patients' health and well-being. We have accomplished the swift completion of registrational programs with innovative trial design by applying innovative methods for data capture and analysis.
Clinical trials enable our researchers to responsibly evaluate the safety and efficacy of potential treatments. The information gained from these investigations compares the effectiveness and the presence of side effects of the treatment under study with those of existing treatments. We are committed to publishing the results of our trials in peer-reviewed publications and in presentations at medical conferences around the world.
When engaging in clinical research, we give maximum consideration to the protection of the human rights and safety of patients who participate in the research. Furthermore, we strive to comply with relevant laws and regulations and to secure transparency in clinical research, scientific validity, independence, and reliability.
We have established and are implementing the Kyowa Kirin Group Clinical Research Policy, which summarizes our approach to clinical research and code of conduct. Visit clinicaltrials.gov to learn about clinical research sponsored by Kyowa Kirin.
To learn about clinical trials sponsored by Kyowa Kirin, visit clinicaltrials.gov and enter "Kyowa Kirin" into the search field labeled, "Other Terms."
Expanded access
Expanded access programs provide a process to make investigational treatments available to physicians with patients who face life-threatening diseases for which no approved therapy is available and who cannot participate in a clinical study. Kyowa Kirin North America welcomes inquiries about access to treatments that are currently in clinical studies.
Please review our policy for expanded access to unapproved drugs.
Explore the full potential of your research